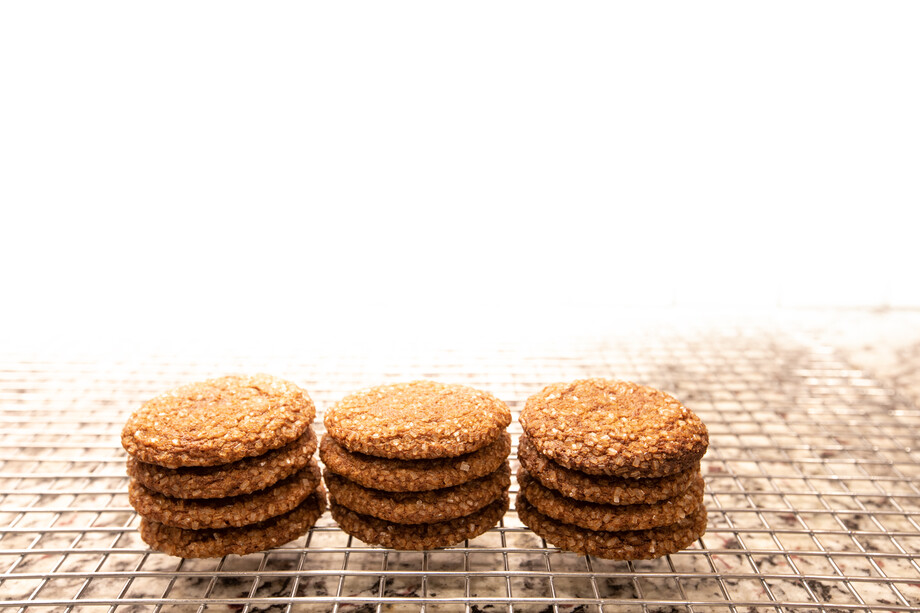 Fall is turning toward winter across the Northwest. As the air cools, my heart turns toward the cozy comforts of hearth and home. When it comes to heartwarming treats, I often turn to a family favorite, gingersnap cookies.
Gingersnaps embody the tastes and smells of the holiday season, but they are perfect for any fall or winter gathering. I enjoy the blend of cloves, ginger and cinnamon in this delicious cookie. These crunchy, spicy rounds with their sparkling sugary tops are frequently enjoyed in my family during November and December.
---
Ingredients:
2 tablespoons finely grated, peeled fresh ginger
1 tablespoon finely chopped moist, pliable crystallized ginger
1 teaspoon plus 1 cup (200 grams) sugar
2 cups (272 grams) all-purpose flour
2 teaspoons baking soda
1 teaspoon ground cinnamon
1 teaspoon ground cloves
1 teaspoon ground ginger
¾ teaspoon fine sea salt
1 ½ sticks (12 tablespoons; 6 ounces; 170 grams) unsalted butter, cut into chunks, at room temperature
¼ cup (60 milliliters) unsulfured molasses
1 large egg, lightly beaten, at room temperature
1 teaspoon pure vanilla extract
Sugar, for dredging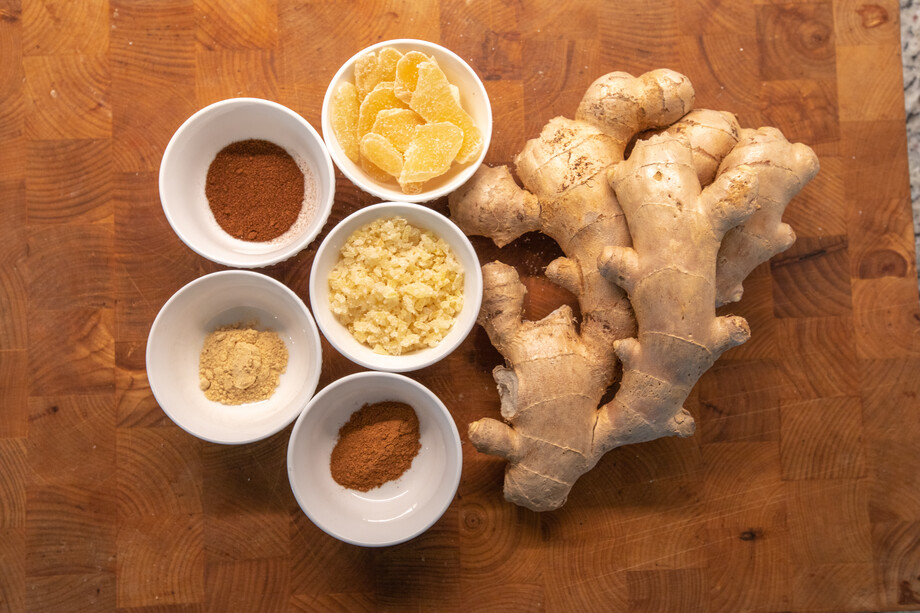 Instructions:
Put the fresh ginger in a small bowl. Sprinkle 1 teaspoon of sugar over the ginger and let stand for about 10 minutes.
Whisk together the flour, baking soda, cinnamon, cloves, ground ginger and salt.
Toss the butter into a food processor, add the remaining 1 cup (200 grams) sugar and the molasses and whir until fully blended. Add the sugared fresh ginger and crystallized ginger and pulse to incorporate.
With the machine running, add the egg and vanilla, then continue to process until blended.
Scrape down the sides and bottom of the bowl, add the dry ingredients and pulse to incorporate the flour mixture; scrape the bowl as needed. When the flour is no longer visible, you're done.
Scrape the dough out onto a work surface, pull it together into a ball and wrap well in plastic.
Refrigerate for at least two hours.
Getting Ready to Bake:
Position the racks to divide the oven into thirds and preheat it to 350 F. Line two baking sheets with parchment paper or silicone baking mats. Put some sugar into a small bowl.
Cut off a hunk of dough — leave the rest in the refrigerator until needed. Using a small cookie scoop, scoop out level portions of dough or use a teaspoon to get rounded spoonfuls. Roll each between your palms to form a ball. One by one, drop the balls into the sugar bowl, roll them around to coat and then place at least 2 inches apart on the baking sheets — these cookies will spread, so don't press them.
Bake the cookies for 14 to 19 minutes, rotating the baking sheets top to bottom and front to back after 8 minutes. Baking time depends on whether you'd like the cookies mostly soft and chewy (14–15 min.), slightly more chewy than crisp (16–17 min.) or chewy just at the center (18–19 min.).
Allow the cookies to cool for a minute or two on the baking sheets and then transfer them to cooling racks to cool completely (or not — these are awfully good still warm). The cookies firm as they cool.
Continue baking cookies, making certain your baking sheets are cool before using again.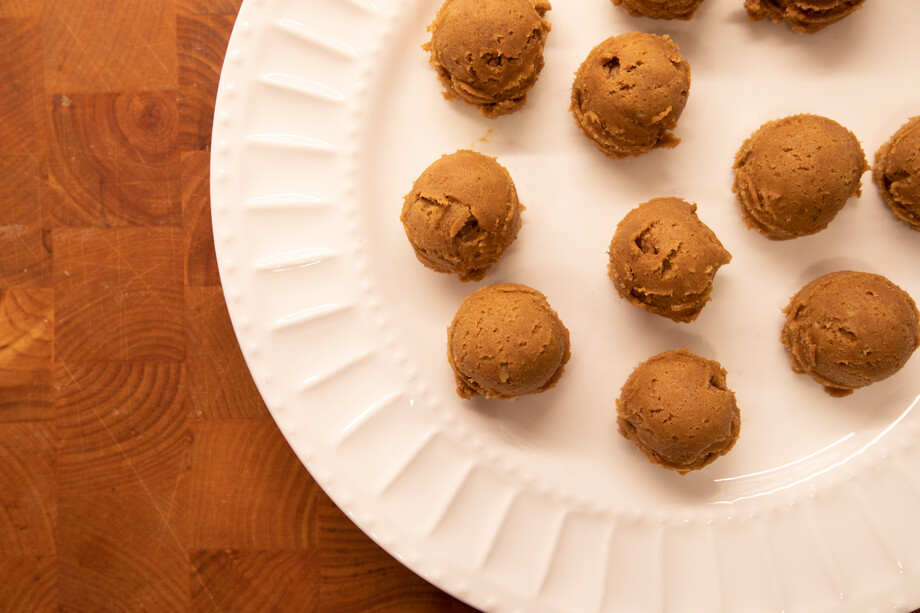 Notes:
The dough can be refrigerated for up to two days or frozen, well wrapped, for up to two months. While these cookies keep very nicely for two to three days in a tightly covered container or zipper-lock bag, they are at their best the day they are made. The cookies can be frozen for up to two months.
Let's eat!
Print the Triple Spiced Gingersnaps recipe.
Adapted from "Dorie's Cookies" by Dorie Greenspan