More than 120 Adventist Health executives gathered at Adventist Health headquarters in Roseville, California, in May 2022 to immerse in conversation about the organizational mission: Living God's love by inspiring health, wholeness and hope.
The theme of the event, Jesus the Great Physician: Five Clinical Outcomes, focused on the healing work of Jesus as the foundation of the Adventist Health mission. Throughout the day, executives explored five outcomes of Jesus' work — people are healed, bodies are valued, souls are loved, community is restored and hope is promised — as well as practical applications of these outcomes in the contemporary healthcare context.
The event was part of the Executive Mission Formation program at Adventist Health, which provides training to ground every executive in ownership of the organization's mission and to focus on mission as the foundation of decision-making. Throughout the day, executives participated in lively discussions on topics such as healthcare without bias, the hospital as sanctuary, the challenges of caring for physical bodies and hope that is grounded in reality.
"Mission is not an excuse to just have good intentions and not be brilliant," said Alex Bryan, chief mission officer for Adventist Health. "The bedrock of our ministry, if we are to honor Jesus, has to be competency — doing great work." Bryan spoke for the event on the subject of Jesus healing the sick and injured and, in that process, revealing that God is good.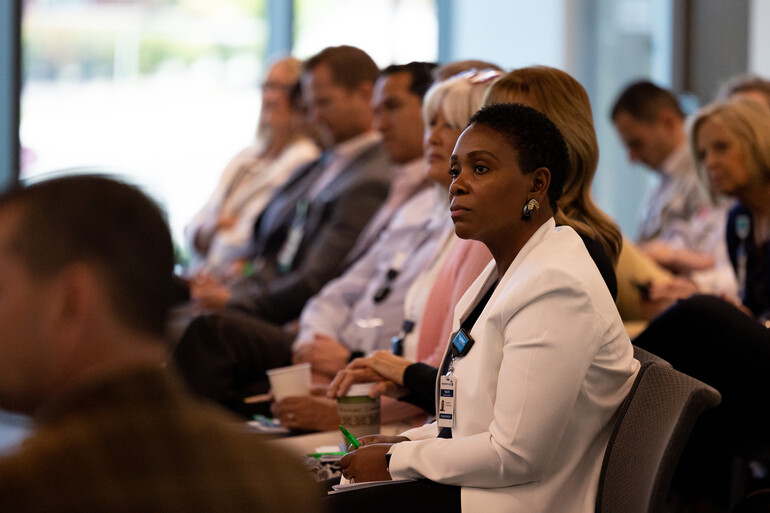 Event speakers also included Lisa Clark Diller, Southern Adventist University professor of history; Tim Gillespie, Crosswalk Redlands lead pastor; Timothy Golden, Walla Walla University professor of philosophy; and Karl Haffner, Loma Linda University vice president for student experience.
During his opening comments at Operations Council meetings, Todd Hofheins, Adventist Health chief operations officer, said, "Our Executive Mission Formation meetings yesterday have prepared us for today. We have several essential system-wide and market strategies to process. This will only be possible if we keep the honesty, authenticity and courage from yesterday in our operations."
Joyce Newmyer, chief people officer and president of Adventist Health's Pacific Northwest Network, summarized the importance of mission-focused work. "What if we all began every day as brokers of hope? What if everyone in our workplace understood that? This would be game changing. We've only just touched the surface of how this approach can change healthcare."