Sticky BBQ Glazed Meatballs
As summer turns into fall, comfort foods turn more hearty. As the seasons change, it's easy to get caught in a food rut. All the hearty, creamy soups and pasta dishes can be so delicious, but the point is it's nice to switch things up. That's where these meatballs come in.
These sticky meatballs are different. They're saucy, flavorful and oh so versitile. You can make a big batch of these in advance and freeze them. They're great for potlucks, family get-togethers and sharing with friends.
They're quick and easy to make, and the sauce is so addicting. I usually make these after having made a pot of lentils for another meal, making sure to set aside enough lentils for this recipe.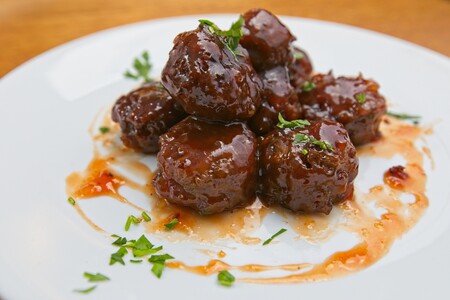 ---
Ingredients:
Makes about 30 meatballs.
Serves 6–8 people.
Meatballs
1 ¾ cup cooked lentils
4 eggs
1 medium onion, chopped fine
1 cup soda crackers or bread crumbs, finely ground
1 cup grated cheddar cheese
½ cup walnuts or pecans, chopped fine
½ teaspoon sage
¾ teaspoon salt
Sauce
½ cup barbecue sauce
1 12-ounce jar of pineapple-apricot marmalade
Directions:
Measure and mash or purée the lentils.
In a large bowl combine the lentils, chopped onion, crackers or bread crumbs, nuts, sage, and salt. Mix together and taste for salt. When satisfied, mix in the eggs.
Let the mixture rest while making the sauce by stirring together the barbecue sauce and marmalade.
Roll the mixture into balls and pan-fry. Depending on the size of ball there should be around 30 meatballs.
After frying, arrange the meatballs as a single layer a baking dish and cover with the sauce.
Then bake at 350 F for 40–45 minutes.
Notes:
If you are refrigerating these to serve soon, cover the meatballs with sauce, cover the dish and tuck in the refrigerator.
If you are freezing this dish for later, do not cover the meatballs with the sauce. Wait until the meatballs are completely cool in the dish, cover the dish and freeze. To bake, remove from the freezer 25–30 minutes to let them thaw before pouring the sauce over them. Then bake as directed.
Want to serve them with a different sauce? These little guys will take what ever sauciness you throw at them. These are delicious with marinara sauce, a mushroom cream sauce or a spicy ginger-sesame glaze. 
Let's Eat!
These are great to serve at a party. Take them out of the oven, cool for 20 minutes or so, and serve with toothpicks. My family loves them with roasted or smashed potatoes and green beans. However you choose to enjoy them, just know they won't last long!