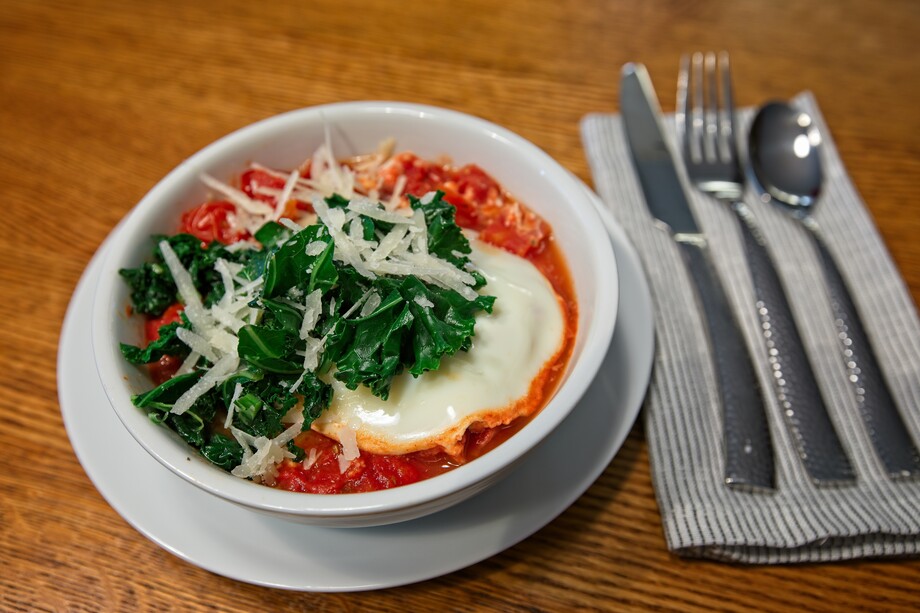 We're big fans of comfort food. There's something deeply satisfying about coming home after a long day and sitting down to a warm hearty meal, especially when it doesn't take forever to make.
This one-dish meal, made up of four main ingredients, is perfect for a simple midweek dinner or an elegant savory breakfast. Who would've thought that cornmeal, tomatoes, eggs and kale could make such a feast?
This is simple, easy comfort food at its best. The beautiful thing about this dish is that it's still packed with flavor even when you make the plant-based version.
Ingredients:
Polenta
1 cup polenta
4 cups water
1 teaspoon kosher salt
Sauce
1 pound cherry tomatoes, halved, or 2 cans (14 ounces) diced tomato
¾ teaspoon salt
½ teaspoon smoked paprika flakes
¼ teaspoon garlic powder
¼ teaspoon dried basil
Water, enough to keep the tomatoes simmering
1 clove garlic, minced
Eggs
4 eggs (use as many eggs as you want, as long as they fit in the pan. See variation below for a delicious plant-based version.)
Kale
3 cups kale, roughly chopped
1 tablespoons olive oil
1 clove garlic, minced
Salt to taste
Cheese
Freshly grated Parmigiano Reggiano or Pecorino Romano cheese
---
Directions:
Bring water, salt and polenta to a boil in a medium sauce pan. Stir occasionally to avoid lumps. Once it boils, reduce the heat to medium low and continue stirring occasionally to keep the polenta from sticking. Cook for about 5 minutes or until it is thickened, then cover and remove from the heat. You may need to adjust the cooking time depending on the grind of your polenta.
 
While the polenta is cooking, place the tomatoes in a shallow sauce pan over medium heat. Sprinkle the tomatoes with the salt and spices and add a small amount of water. Stir gently, then cover and let simmer. Check in on the sauce often and add a little water if needed. When tomatoes are fully cooked down, stir in 1 clove of minced garlic and let it simmer for a couple more minutes. Reduce heat to keep the tomatoes hot but not bubbling. Season to taste.
 
Carefully crack the eggs into the sauce, one at a time. Avoid breaking the yolks. Each egg should be cuddled in the sauce with enough space around it for additional eggs. Cover and let the eggs poach very gently in the sauce for about five to seven minutes. The eggs are done when the whites are no longer clear. After the eggs are cooked to your satisfaction, remove from the heat. If you like your eggs firmly poached, let the pan sit covered for 10 minutes. Remember, the heat will continue to cook the egg.
 
In a skillet, heat 1 tablespoon of olive oil over medium heat. Add the chopped kale and toss with olive oil. As the kale wilts, season to taste and add the remaining clove of minced garlic. Stir constantly to prevent the garlic from burning. Remove from heat when the kale is fully wilted but retains some of its color.
---
Let's Eat!
Now for the best part. To serve, first dish up the polenta. Add the tomato sauce and poached eggs. Top with wilted kale and a sprinkle of grated cheese.
---
Plant-based Variation
This dish is equally satisfying if you choose to substitue another protein instead of the eggs.
Use a package of firm silken tofu cut into small cubes and add to the sauce as soon as the tomatoes cook down. Place the tofu evenly across the sauce and gently press it in. Do not stir, as it quite fragile. Cover and let gently simmer for five to 10 minutes.
For a little more texture and added flavor, use extra firm tofu (the refrigerated kind that comes packed in water). Cut into cubes and sauté in a little olive oil until evenly browned. Salt to taste, add to your sauce and simmer for five to 10 minutes.