The secretariat office ensures smooth administrative operations of the North Pacific Union and its associated entities. The secretariat functions as the custodian of records and policies while overseeing the implementation of the executive committee actions. 
The secretariat helps provide oversight of union office operations and functions; maintains and distributes official minutes, policies and resolutions of the North Pacific Union Executive Committee; and ensures that the union, its conferences and entities abide by their respective constitutions and bylaws.
In addition, our office is responsible for the maintenance of personnel records and the issuing of appropriate credentials and licenses to North Pacific Union workers and retirees. 
To provide administrative leadership, strategic planning and support to Adventist leaders throughout the North Pacific Union as we work together to reach our population with the distinctive Christ-centered message of hope and wholeness.
Fast Facts
For the first time in our history, the membership of NPUC crossed the 100,000 mark in 2016. NPUC currently ranks 6th in size among the nine unions that make up the North American Division.
Due to the COVID-19 pandemic, 2020 experienced a net loss of membership for the first time in almost 100 years.
Six conferences make up the NPUC territory: Alaska, Idaho, Montana, Oregon, Upper Columbia and Washington. Oregon is the largest conference with 36,589 members, while Alaska is the smallest with 3,870 members.
While Washington is geographically the smallest conference, it is the fastest-growing.
In June 2019, the NPUC hosted and helped sponsor a meeting with 13 General Conference Division Secretaries from around the world in hopes of better understanding how we are carrying out the mission in NPUC.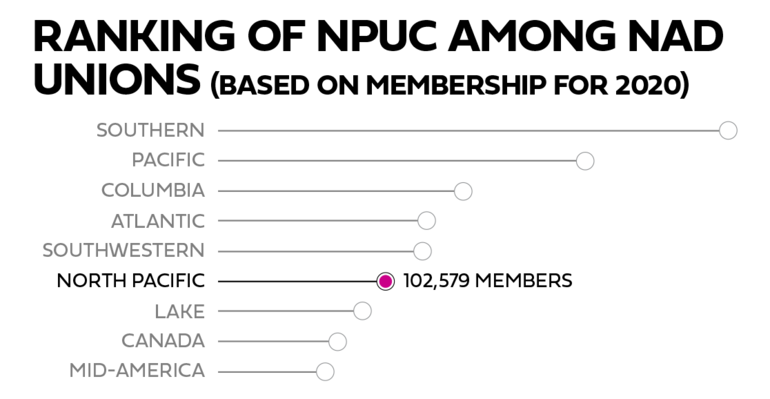 Ranking of NPUC among NAD Unions
(Based on membership for 2020)
Southern: 308,337
Pacific: 220,791
Columbia: 148,963
Atlantic: 127,771
Southwestern: 124,722
North Pacific: 102,579
Lake: 88,505
Canada: 73,471
Mid-America: 64,787
Accomplishments:
Leadership Transitions: This quinquennium has brought an unusually large number of conference leadership transitions. The NPUC administration has worked with local executive committees and standing nominating committees to provide an efficient and smooth officer selection process to fill these vacancies.  
Leadership Development: We have developed and performed comprehensive midterm and end of term performance evaluations for conference officers and departmental directors. 
Church Attendance: Accurate attendance figures have been taken for 2016, 2017, 2018 and 2019 in all six conferences in the North Pacific Union (see graph below). The total average church attendance figures on any given Sabbath for the four years combined is 39.68 percent of NPUC church membership. Due to the pandemic, we did not take church attendance in 2020.
Union Operations: We have made significant changes in ministry and support services throughout this quinquennium, resulting in inefficiencies that have allowed us to reduce the number of full-time employees by nearly 15%.

Attendance
2020: None was taken due to the pandemic
2019: 39%
2018: 40.6%
2017: 40.6%
2016: 40.8%
Opportunities:
We have an opportunity to focus on renewing membership growth.
Attendance is waning. What are the ways we can rebuild member participation?
We must continue to focus on diversity, equity and inclusion.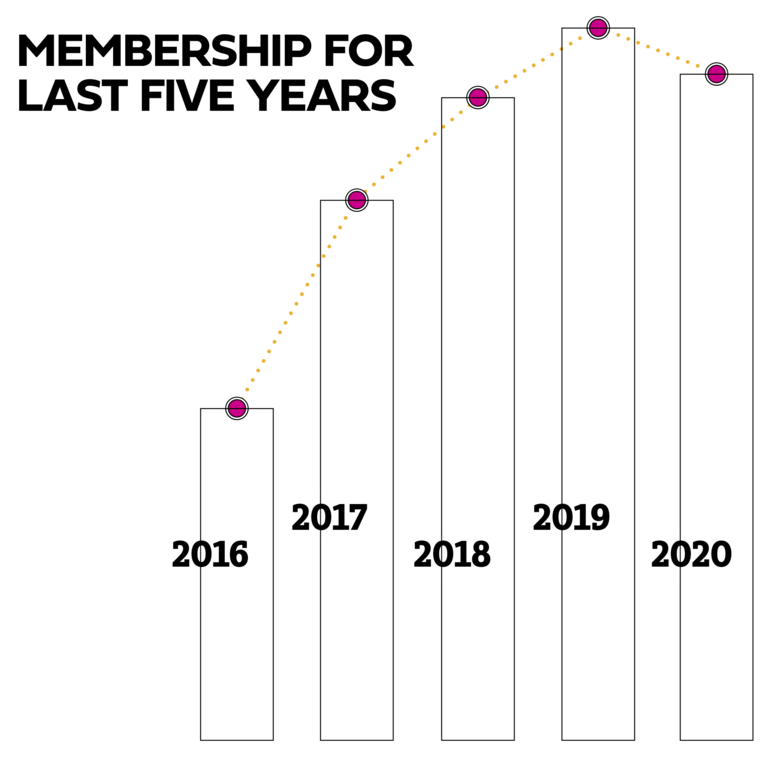 Membership
2020: 102,579
2019: 102,814
2018: 102,450
2017: 101,909
2016: 100,801