Thai Veggie Soup
Cold winter weather makes one want to curl up in front of the fire. And what better way to get that warm, cozy feeling than with a nice bowl of soup?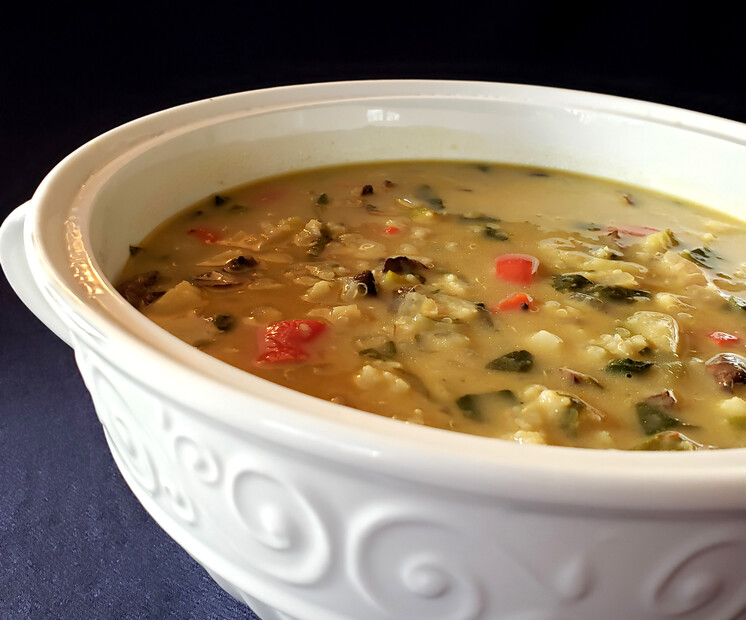 ---
Ingredients:
½ cup quinoa
1 tablespoon olive oil
½ pound sliced mushrooms
1 onion, thinly sliced
½ head cauliflower, cut into small pieces
2 garlic cloves, minced
1 tablespoon fresh ginger, peeled and chopped fine
1 stalk fresh lemongrass, cut into 1-inch pieces (optional)
4 tablespoons green curry paste  
4 cups vegetable broth
2 tablespoons soy sauce
1 red bell pepper, sliced thin
1 medium zucchini, julienned
1 15-ounce can coconut milk
2 cups chopped spinach
1 tablespoon kaffir lime leaves (optional)
Instructions:
In a small saucepan combine ½ cup quinoa and 1 cup water and bring to a boil. 
Reduce heat and simmer until liquid has evaporated (15–20 minutes).
Let stand for 5 minutes, then fluff with a fork and salt to taste. See notes.
Heat oil at medium in large pot. Sauté mushrooms, stirring often, until they begin to soften and brown slightly (about 5–7 minutes). Remove mushrooms and set aside. 
Add more oil if needed, then add onion and cauliflower. Stir occasionally until onions are beginning to soften (about 5 minutes). 
Add garlic, ginger, lemongrass and curry paste and continue to stir for 1–2 minutes — this brings out the flavors. 
Add broth, soy sauce, red peppers and zucchini. Simmer until vegetables are cooked to perfection. 
Add coconut milk, spinach, cooked quinoa, sautéed mushrooms and kaffir lime leaves, stirring for 2 minutes. 
Remove from heat and discard the lemongrass chunks before serving.
---
Notes: 
I usually make a large batch of quinoa and freeze leftovers for future dishes.
I've been known to alter recipes — varying the veggies and amounts according to what I have on hand. 
Four tablespoons of curry paste is perfect for us (we typically order medium heat in a restaurants). Use more or less according to your palate. Also, note that some curry pastes are spicier than others. 
Occasionally I replace the zucchini sticks with 3 ounces of rice noodles, but be sure you don't add them too soon as they will get mushy. Note the directions on the package of rice noodles.
Let's eat!