Ben Carson, retired neurosurgeon, one-time presidential candidate, former Secretary of Housing and Urban Development, and author of hundreds of articles and six books including his autobiography Gifted Hands, made a surprise visit to the campus of Auburn Adventist Academy all because of a student's invitation.
An AAA senior wrote a letter of invitation to Carson to see if he would visit the academy campus. A few days before Mother's Day weekend, the final details were confirmed. Not only was the invitation honored, but also included a shared lunch conversation.
"We already had a Masterworks concert planned for church, so Carson integrated into the program," shared Suzette Maxwell, AAA associate vice principal for student life. "Mrs. Carson deeply appreciates music, so they enjoyed listening to the outstanding performances. They were overwhelmingly impressed with the musical talent of AAA students."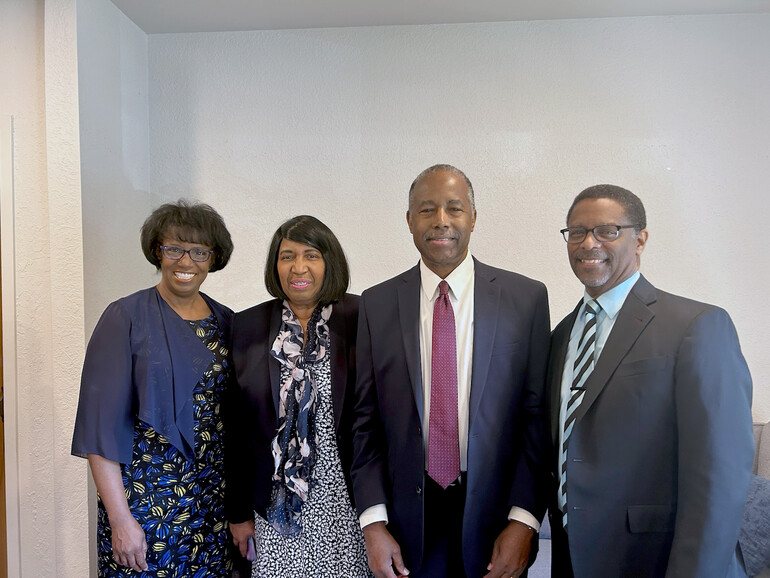 Carson spoke twice to AAA students: in a special Sabbath School time for students and briefly during the church service. He shared in part his personal story about how God took an angry kid and redirected him.
"My mother told me, 'You gotta start reading books.' I didn't like it at first. But because of our poverty, I started enjoying the books. Because I could go anywhere, I could do anything, I could be anybody. My vistas, my horizons began to be worldwide. It was an incredible feeling," Carson shared.
He continued, "I began to read about people who were very successful: engineers, entrepreneurs, surgeons and scientists. I came to understand one thing: The person who has the most to do with what happens to you in life is you. It's what you decide to do with the brain that God gave you."
Carson concluded his first speech with life advice: "Trust in the Lord. Give Him the credit. Don't take the credit for yourself. Follow His direction, and you don't have to be afraid of anything. You don't have to worry about anything. It really is a true blessed assurance that Jesus has given us. Let us accept that and move forward because God is always looking for people who He can use."