You've seen it. You may have even watched it happen around you. Many of our churches are shrinking and aging. Walk into almost any Adventist church, and one can easily see the absence of young people. There is no denying this reality.
In most churches, this slow death is rarely an overnight process. They fade slowly as the years go by, often quietly losing momentum and vitality. Until one day they are completely empty. 
A light goes out. A ministry dies.
An Unacceptable Reality
Studies like ValueGenesis have accurately pointed out the realities and challenges of youth and young adult disengagement. We're not unique as a denomination. Churches across the country are both shrinking and aging as more young people check out.
But there is hope.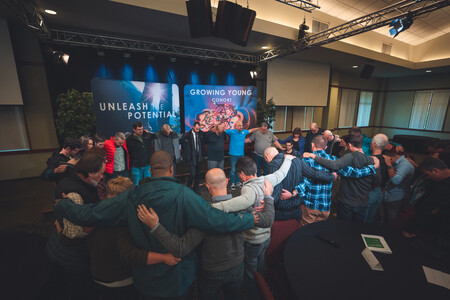 Pastors and members gather and pray during an Growing Young Adventist Summit focused on church revitalization and young adult engagement.
There are congregations bucking this trend. Despite the tide, some churches are swimming upstream and thriving with people of all ages. What is it about these life rafts in the sea of decline that allows for vitality and growth?
The Best News
Are you ready for the good news? Your church can grow young too. Extensive research has discovered six core commitments that keep teenagers and young adults coming back for more. 
Contrary to what many fear, this doesn't require changing our beliefs or our mission. It's not about giving up our distinctive Christ-centered message of hope and wholeness in order to woo young adults back. When a church begins the journey toward revitalization, members will likely find their church becoming what they've always dreamed it could be.
This ray of hope is something we at the North Pacific Union Conference (NPUC) are passionate about. We believe it's possible for our churches to grow and thrive as we engage our young adults. This belief is so important to us, we've built it into every one of our four strategic priorities:
Young adult engagement;
Leadership development;
Growing healthy churches;
Growing healthy schools.
Here at the NPUC, we've heavily invested in finding churches who want to seriously engage in what it takes to build a thriving community of believers. You may have heard about it. We call it Adventist Northwest Growing Young Cohort or Growing Young Adventists. 
"At the heart Growing Young is a learning journey for cultural change, breathing life and vitality into the local church, while uniting all generations together for the cause of Christ." Benjamin Lundquist, Oregon Conference young adult director and North American Division young adult ministries coordinator
What Is Growing Young?
The Growing Young initiative is a learning journey toward revitalization and community. Churches who participate: 
Challenge young people (in fact, all members) with Jesus' message in ways that inspire them;
Develop younger leaders intentionally through natural leadership opportunities;
Fuel an atmosphere of warmth where everyone feels welcome;
Become better neighbors to those in the community.
This initiative is not just a seminar you send your pastor to. This is a yearlong intentional journey that involves pastors and lay people from across your congregation. It helps you:
Reflect with your members on where you are and what got you there;
Ask meaningful questions about your values and goals as a church;
Expand your vision beyond trends and tricks;
Make the best use of your limited time and resources;
Craft a focused plan to reach young people like never before. 
Is It Working?
The NPUC just finished up our 2019 Growing Young Cohort. We rejoice that 45 churches joined this intentional learning journey for revitalization. Over the last year these churches have greatly improved their capacity to love well and lead well for all generations. Since we introduced the initiative in 2018, more than 55 churches have participated.
We're not content to stop there. Today local church teams all across our union are implementing customized strategic plans to continue growing in 2020 and beyond. We're just beginning our second year of church mentorship with our 2020 cohorts. We're seeking to build thriving Seventh-day Adventist churches for all generations, while helping churches grow younger, by reaching, loving and empowering youth and young adults more effectively. 
"The six Growing Young strategies engage church leaders with their young people and strengthen congregations to reach their communities for Jesus. Get the book. Read the concepts. Empower your church."
Tracy Wood, North American Division youth director
Let's Get Intentional
Walk in the door at the Yakima 35th Avenue Adventist Church, and you might be tempted to say it looks like many others in North America, complete with an aging congregation. 
Take a second look, and you'll find something more. Behind the 1960s multicolored chartreuse and orange stained-glass windows, there's quiet determination.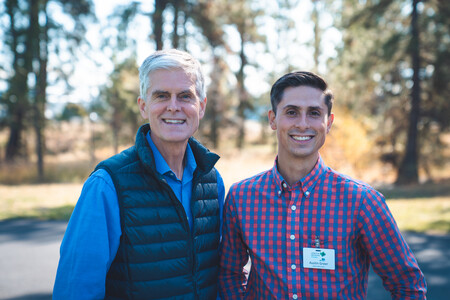 Pastors Harry Sharley and Austin Greer are eager to see what God has in store for the Yakima 35th Avenue Adventist Church as they intentionally look for ways to grow young.
Harry Sharley, senior pastor, says it's about making a difference in the community and a desire to point people to Jesus. "We have a lot of good things happening here," he says. "At the same time there's more we need to do. We need to engage youth and young adults in ministry."
The church board and pastoral team recognize if they don't do something now, eventually they will run out of members. There's no reason for this to happen, says Sharley.
"There are many young adults who used to attend our church. We just need to connect with them," he explains. "When the opportunity arose to intentionally do something about this problem, I was immediately interested."
A Solid Beginning
Sharley and pastoral intern, Austin Greer, were invited to be a part of the Growing Young Cohort with other churches in the North Pacific Union. The church embarked on a yearlong journey that includes two training summits and personalized mentoring for pastors and church leadership. 
The Yakima Adventist Church began taking steps to affect the entire culture of the church. Their actions reflect the six core commitments that impact young adult engagement. 
"I'm really proud of our church members. The intentional actions they are taking is sending a signal of care and commitment to our young adults," says Greer. "We have a core group now that meets each week with others showing interest." 
Indispensable Commitment
The key factor here is that Yakima members are committed to finding ways to show youth and young adults how vital they are to church ministry. Research shows when young people are involved in ministry, they most often choose to remain engaged.
The church's commitment is evident in a very public way. Worship service roles, traditionally reserved for elder statesmen, are being filled by young adults. While the church's mission and message remain the same, the voices are certainly changing.
Young adult engagement is more than including young people up front. It's really about creating community where people of all ages find love and support. As Sharley and Greer move forward they're working to build a multigenerational leadership team that will steer and guide church plans and activities to grow young for the kingdom.
"The intentional steps Yakima is taking are so important to the future of our church," says John Freedman, NPUC president. "I praise God for the churches, like Yakima, that are beginning to tackle this challenge. I believe God will use us in greater measure as we nurture healthy Christ-centered communities of hope and wholeness."
Drifting on Acid, Grounded in Faith
What happens when you intentionally engage young adults in ministry? What impact can it have on your church? More importantly, what does it do for young adults?
Tylor Watts can tell you firsthand. He grew up in an Adventist home but drifted away. Intentional engagement saved his life. 
Baptized at age 13, Tylor says, "I didn't really have a reason to get baptized. It's just what people did."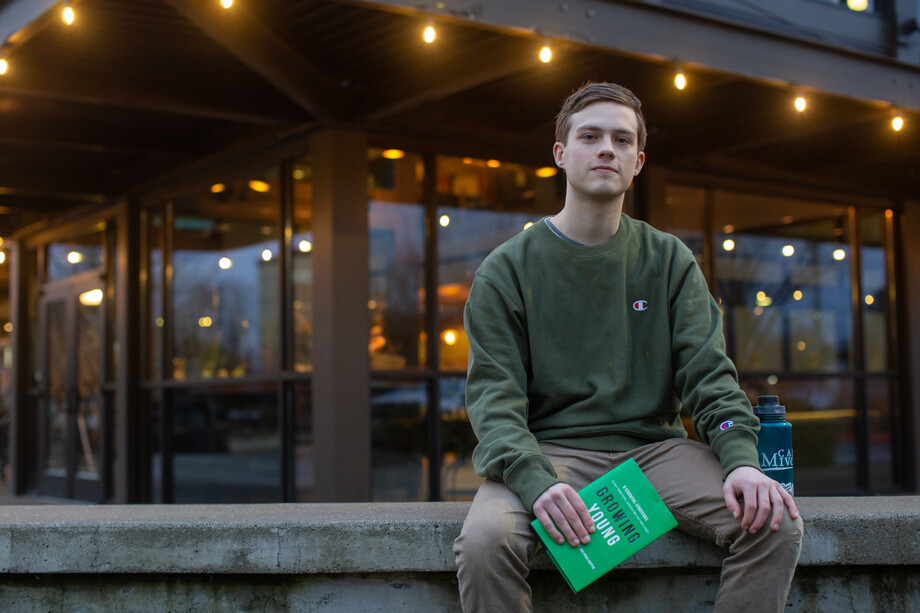 "I got to the place where I was regularly doing acid with my friends," says Tylor. "I feel like I was being messed with by spiritual powers. I was really paranoid."
Tylor hit rock bottom New Year's Day 2016. He was at a friend's house, high on drugs, when he began hallucinating that he was part of a sacrificial ritual.
"I did not want to die, so I ran away," says Tylor. "It was after midnight, and I decided I was going home. The problem was I lived 7 miles away, and it was sleeting outside."
Tylor alternately ran and walked through the icy darkness trying to keep warm. Mentally Tylor was beating himself up for getting himself into his current situation. "I felt like there was no way out," he says.
Cold and desperate, Tylor flagged down a passing car. The driver turned out to be a sheriff, the last person Tylor wanted to see while high on acid. Following a confrontation with the authorities, he was handcuffed and taken to the hospital.
God gave me a foundation for my life. Instead of being swayed back and forth by all these paranoid thoughts, I finally knew God was my Shepherd, protecting me.
Tylor Watts
After being released to his parents' custody, Tylor began the painful journey to sobriety. 
"The next two weeks were complete mental torture," says Tylor. "My brain was so messed up, I was scared to even drink water because I thought somebody was going to spike my drink and kill me."
Slowly, the Holy Spirit began leading Tylor up a different path. Instead of experimenting with drugs, he tried reading the Bible. He also attended a seminar series by Brian McMahon.
"Through that seminar," says Tylor, "God gave me a foundation for my life. Instead of being swayed back and forth by all these paranoid thoughts, I finally knew God was my shepherd, protecting me."
Tylor found support and community through his church family. He found purpose by serving at Camp MiVoden and Oregon Conference Camp Meeting. One day, his pastor asked him if he would consider becoming the young adult leader for the church. 
Even though he didn't know what to expect, Tylor accepted the new leadership responsibility. He kept the weekly game nights going as well as Sabbath School classes every week. Then he began looking for ways to add on to that. 
By intentionally including Tylor in ministry, his church gave him a loving alternative to the negative community he'd walked away from. They gave him purpose and meaning instead of aimless drifting.  
Today, Tylor wants to see other young people engaged in ministry. He is currently leading his church through the Growing Young initiative. 
"One of the reasons why I think Growing Young is so important is because I see myself in the young people we're trying to reach," says Tylor. " Growing Young is important because it puts the focus on intentionally seeking out those who are drifting and bringing them back into the community. It's about showing them we really care about them, that we love them and want to support them."
Three Things You Can Do
Commit to pray for those seeking to revitalize churches across the North Pacific Union. Your prayers are so important.
Visit growingyoungcohort.com to learn more about how you can grow your church young. Watch the documentary. 
Register your church for the next Growing Young Cohort session. Registration opens October 1, 2020.