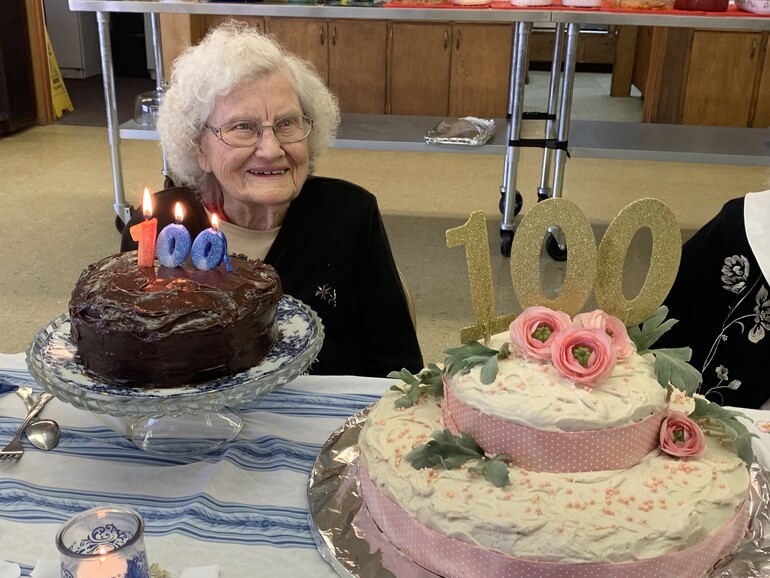 Biloff 100th
Gladys Biloff celebrated her 100th birthday on Aug. 23, 2022, in Milton-Freewater, Oregon.
Gladys Christina Juhl was born Aug. 23, 1922, in Bowesmont, North Dakota. She was one of nine children, and the ony girl born to Henry and Christina (Berthelsen) Juhl.
She attend Sheyenne River Academy where she met and eventually married Hagen Biloff. They raised five children on a North Dakota farm.
She has been a pastry's chef, cook and girls' dean at Maplewood Academy in Minnesota and dean of women at Walla Walla University.
In her retirement she volunteered her services as manager of the Adventist Community Services Thrift Store for eight years.
She now resides in an independent retirement center and enjoys her many friends.
Gladys's family includes DeVern Biloff of Fresno, California; Dennis and Ellen Biloff of Bouse, Arizona; Neil and Jacquie Biloff of Milton-Freewater, Oregon; Lana (Biloff) and Bob Sepolen of Walla Walla, Washington; Wade and Cathi Biloff of Denver, Colorado; 10 grandchildren; 6 great-grandchildren and a great-great-grandchild.