Ellsworth Eugene Wellman 95th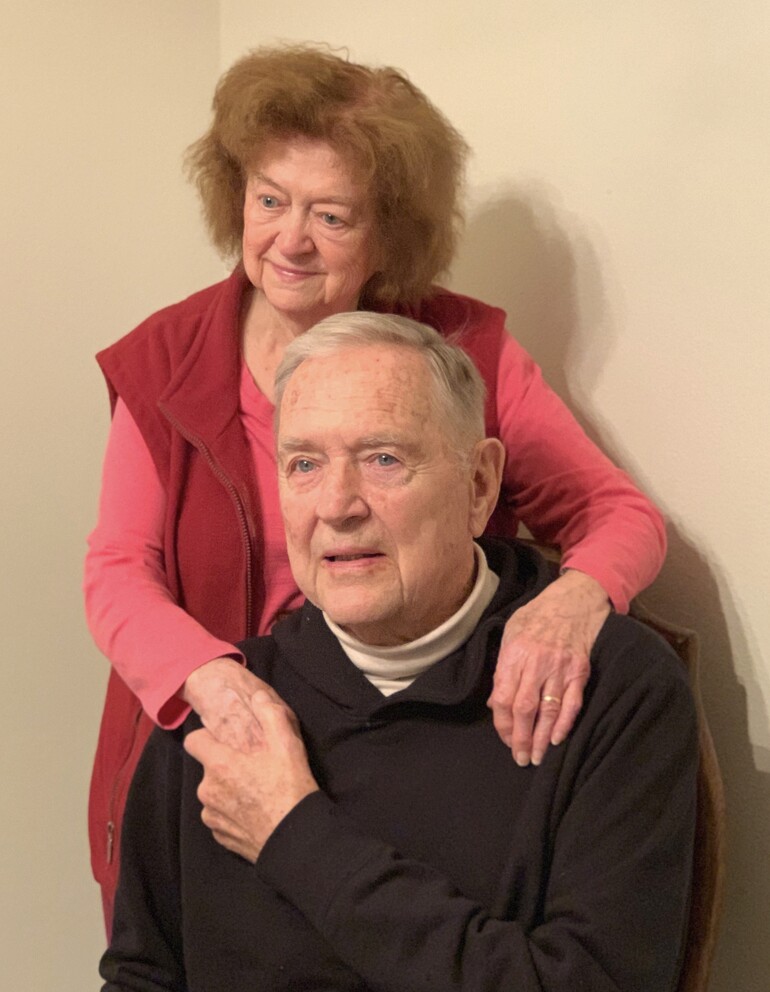 WELLMAN 95th
Ellsworth Wellman celebrated his 95th birthday on Jan. 23, 2019, with his family at his home. Just a couple months before, on Nov. 19, 2018, he and his wife, Marilyn, celebrated their 75th wedding anniversary
Ellsworth grew up in the Rainier Valley area of Seattle, Wash. He played football for Franklin High School and graduated in June 1943. Uncle Sam called him for World War II just a few days after graduation. He went into the Army as a conscientious objector (he didn't want to carry a gun to kill). They sent him to Camp Barkeley in Abilene, Texas, for medical training.
Ellsworth met Marilyn Cunning at Franklin High in 1941. Their real first date was Dec. 7, 1941, the day the Japanese bombed Pearl Harbor. Friends kidded them that they started the war, but that didn't hurt their romantic courtship.
In November 1943, when the training at Camp Barkeley was over, Ellsworth went home and married Marilyn. He was home for only three days before he had to return to camp. He was on a troop ship by December. His ship joined a convoy with a sub-chaser protecting them all the way to Pearl Harbor.
While Marilyn finished high school, Ellsworth says he took his honeymoon in Hawaii under the palm trees, fully paid for by Uncle Sam. He was sent to Kauai for further training in landing craft infantry. The landing craft would circle out in the ocean and then charge the beach. Their camp was up on a mountain, known to be the wettest spot in the world. They had to dig trenches around their tents and their sleeping cots to keep their tents dry. They were young, and this was just another day in the Army.
Ellsworth met the young pastor of the Kapaa Church, Elden Chalmers, and became good friends with him and his wife. After a few weeks of association with the Chalmers, eating at their home, talking Bible and going on Bible studies with him, Ellsworth felt drawn to the ministry as a life profession. He wrote to Marilyn about his change of heart and wanting to study ministry in college. After many days praying she wrote back accepting it.
After Kauai, Ellsworth was attached to a medical clearing company. This was the first medical hospital behind the front lines. They served in New Guinea and then followed General McArthur onto the island of Leyte in the Philippines. Some of the missionaries that were freed from other internment camps in the Philippines were brought to his clearing hospital.
Ellsworth had been overseas for about two years, so he was given a furlough. He traveled home in an old Indian freighter that had been converted into a troop ship. While Ellsworth was traveling home, the atomic bomb was dropped on Japan. The war was soon over. Because he was home, he was discharged from the Army in December 1945. He was accepted at La Sierra College (now University) and started college January 1946. His theology teachers were known as the 3H's: Edward Heppenstall, Cecil Haussler and Paul Heubach. Ellsworth graduated in June 1949.
After graduation Ellsworth was asked to be youth minister at Loma Linda Hill Church in California. After nine years in Southeastern California Conference, he was called to the Washington Conference. After pastoring for many years he was asked to be the assistant manager of the Washington Adventist Book and Bible Center. He accepted this call and enjoyed it, retiring in 1989 after 40 years of service.
The Wellmans had five children. Their family includes Claudia and Del Griebel, Cathie and Cliff Kruse, David and Laura Wellman, Greg and Debbie Wellman, and Nancy and Steve Mack. Their daughter Claudia died in September 2008, leaving her family brokenhearted.
Ellsworth and Marilyn have had 75 happy married years. The have traveled together to the Caribbean, Europe, Mexico and several times to Hawaii. They are now living on an acre of ground, an acre away from their youngest daughter, Nancy. Ellsworth is taking care of a few fruit trees, some raspberries and grapes. He is active in the All Nations Center in Wapato, Wash.