Seattle draws patients from Washington, Wyoming, Alaska, Montana and Idaho — the five states that are part of the University of Washington's WWAMI Regional Medical Program — as well as from other states and countries.
They come for the care offered by Seattle's outstanding medical facilities such as the University of Washington Medical Center that encompasses Seattle Children's Hospital, Fred Hutchinson Cancer Research Center and Harborview Regional Burn Center, as well as other major hospitals for care often not available elsewhere in the region.
While in Seattle these patients and their families need housing, but the high cost of accommodations can be a heavy burden, adding financial stress to the stress of the medical challenges. 
Responding to this need, Green Lake Church's housing ministry, initiated in 2017, provides guest suites free of charge to families whose loved ones are receiving treatment in Seattle.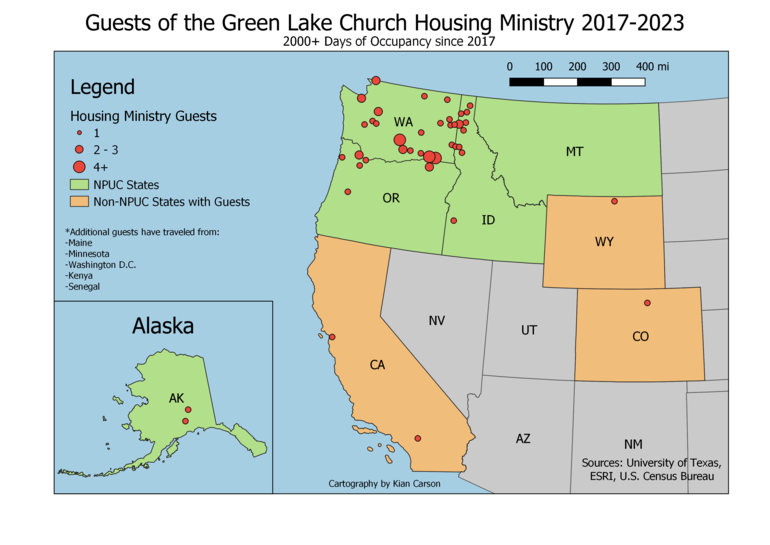 In addition to providing a place to stay, the ministry provides a calming, human contact for people in crisis arriving in a strange city.
Karin McLarty, program coordinator, answers questions and stays in touch with guests regarding their needs and their progress. Kevin McGill, Green Lake Church pastor, and his wife, Danelle, greet guests at the Jensen House. Tatiana Almeida, host of the Meridian House, offers a warm welcome. Guests often remark that they feel they have a friend in the city. They no longer feel so alone.
Occasionally students visiting the University of Washington need short-term housing while attending a conference, interviewing for studies at a local university or for a new job, or working on a research project. Such students may also apply to use the housing.
The anchor of the housing ministry is the Jensen House, purchased in 2013. This property, 10 minutes away from the church, provides a parsonage for the pastor and his family on the main level and a housing ministry guest suite in a daylight basement — a so-called Mother-in-Law apartment or Auxiliary Dwelling Unit — that was renovated in 2017.
In late 2018, Green Lake Foundation purchased another property — the Meridian House on the same block as the church. The dark 1902 basement was converted to an attractive two-bedroom apartment dedicated to the ministry.
The main and upper floors of the house are rented to single Adventist women, primarily university students. This is part of the Green Lake Church Collegiate Ministry, which provides partially subsidized housing and a congenial environment for students and young professional women.
The financial model for the housing ministry is simple: the main housing unit is rented out and covers most of the ongoing expenses of the property, allowing Green Lake Church to offer the guest suites without charge.
This summer, in a major expansion of the housing ministry, Green Lake Foundation, a supporting organization of Green Lake Church, purchased another property which will provide two additional units for patients and their families.
The new property, the only other house on the block, is located between the church and the Meridian House and includes two additional detached studio units in the backyard. This house had not been on the market for 60 years and the owners had said it would remain in the family forever. So, it seemed like a small miracle when they offered it for sale to Green Lake Foundation.
Housing ministry guests find the ministry an answer to prayer. One family said, "While my father was recovering from a serious car accident, we praised God for your wonderful ministry. It speaks volumes of your caring and generous hearts — anchored in the love of God."
An Alaskan family with a member who suffered life-threatening burns and needed to use Seattle's renowned Burn Center at Harborview Hospital, flew 1,500 miles for treatments. Away from home for some time, they said they saw "the spirit of Jesus" in the Housing Ministry.
The housing ministry continues to grow. Stepping out in faith, Green Lake Church seeks to follow the model of Jesus' ministry, supported by the generosity and work of Green Lake Church members and others beyond who believe in this ministry. 
From inception in 2017 to 2023, the Housing Ministry has provided well over 2,000 occupancy days for those in need. With this recent addition of two more housing units, the church will be able to respond to the demand more easily. Even now, some congregation members have made suites available to the Housing Ministry program to accommodate the frequent overflow.
If you have a pressing need for temporary housing in Seattle, related to a medical or other special need, or would like to contribute to this ministry, contact the Green Lake Church office at 206-522-1330 (updated from printed number), email glcsda@gmail.com or visit the church's website, greenlakesda.org.