In Battle Ground, Washington, community members, Meadow Glade Church members and staff members gathered in the lobby of the Battle Ground HealthCare building for the unveiling of a Founder's sign.
The sign reads, "In 2004, Meadow Glade Seventh-day Adventist Church purchased an adjacent building for the purpose of serving the community. As the church members learned of the unmet healthcare needs in northern Clark County, they wanted to use the space to help. Battle Ground HealthCare was born with a clear vision — to bring health, hope and healing to people in our community.
Meadow Glade Seventh-day Adventist Church has been an integral part of Battle Ground HealthCare since the first patient walked through the doors. Church members have been steadfast supporters, giving generously of their time, talent and treasure — all in the name of serving others.
We are forever grateful to Meadow Glad Seventh-day Adventist Church for their vision, dedication and generosity in helping those in need." 
Today, Battle Ground HealthCare is the largest one-church-sponsored free medical clinic in the North American Division. It provides a wide range of medical services including dentistry, pain management, medication assistance and physical rehabilitation free of charge to adults at or below 300% of the federal poverty level, bringing together local churches, businesses, health care providers and individual volunteers to serve their local community in southwestern Washington.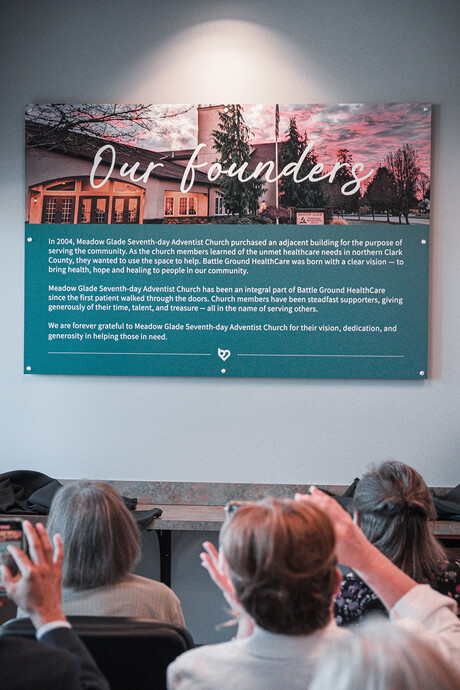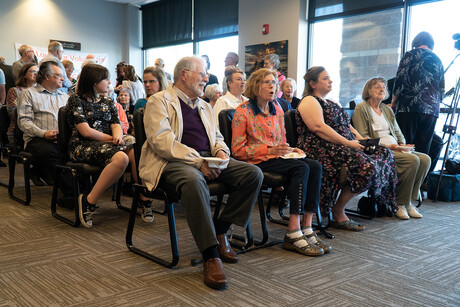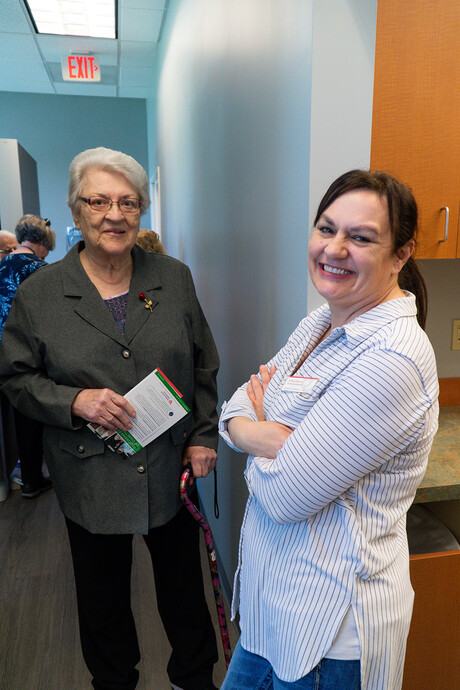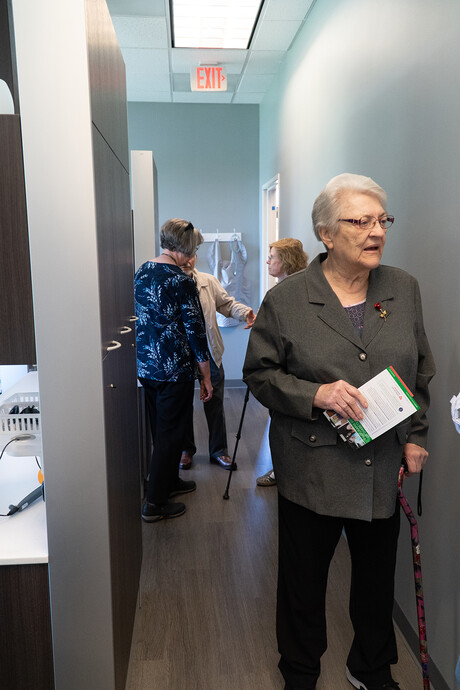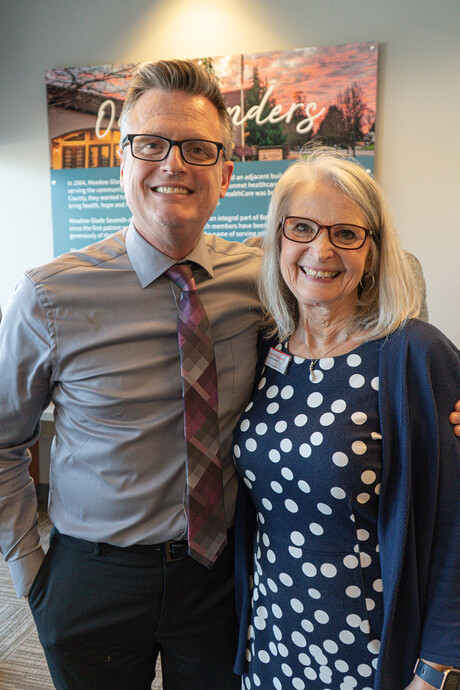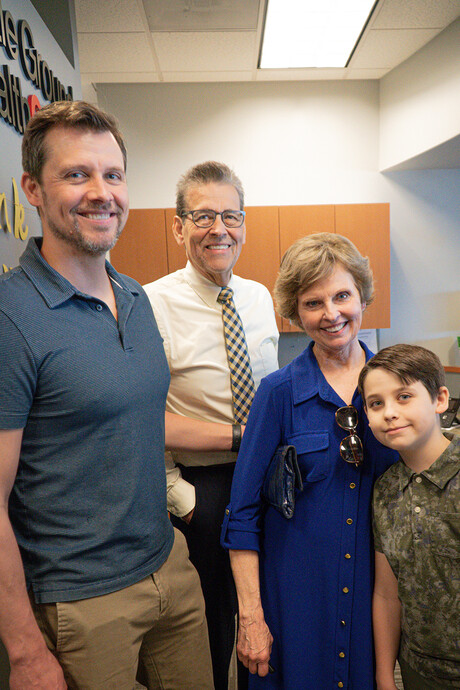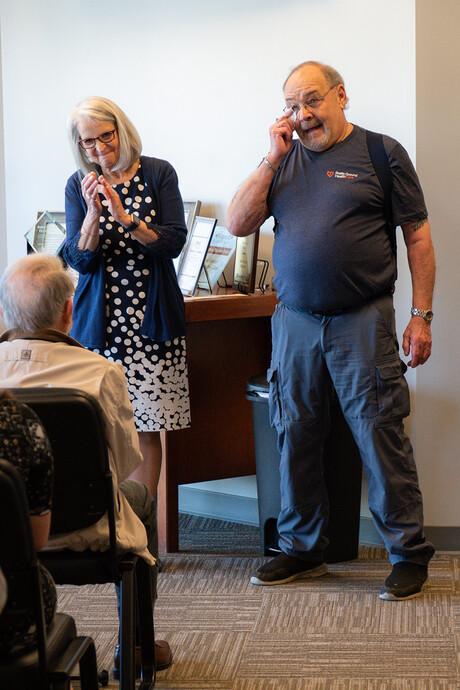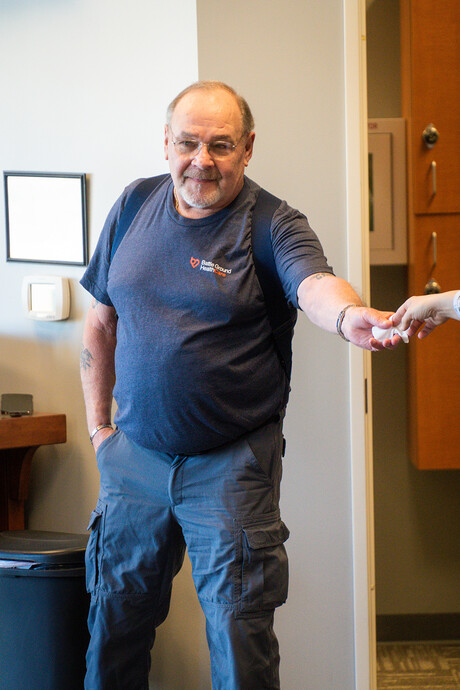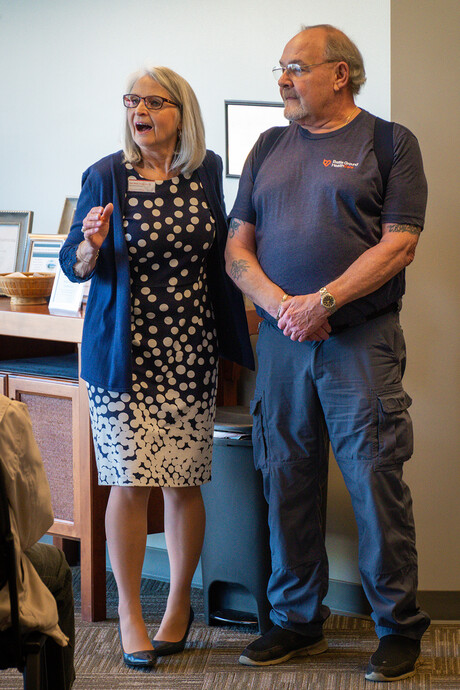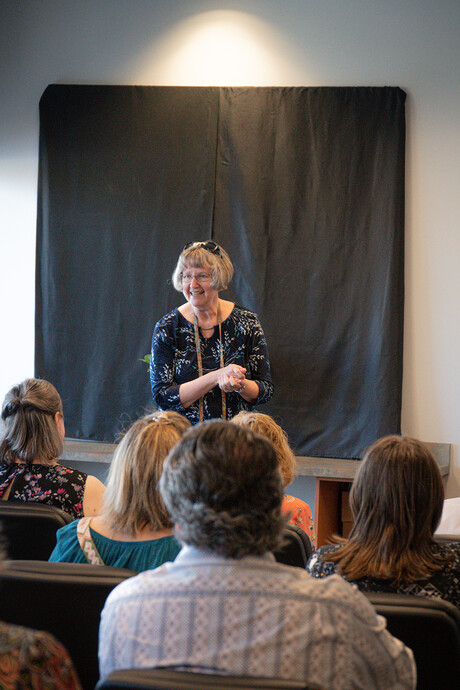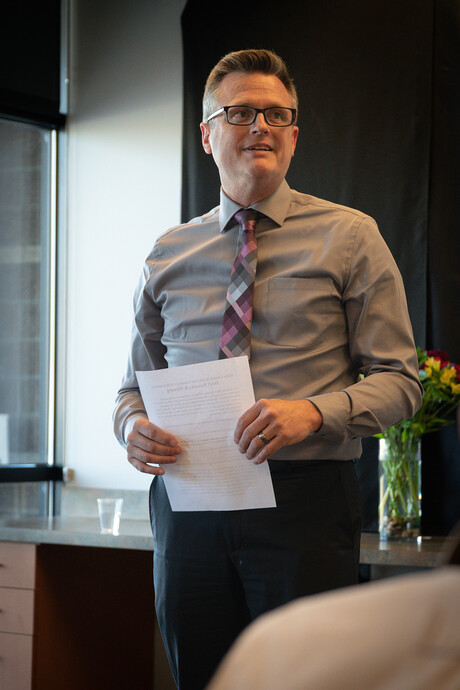 Bob White spoke about his life-changing experience with the clinic. "I had to get a complete shoulder operation, but because of COVID-19 it took me a couple of years to get there. I was told I had to get my teeth fixed before I could undergo surgery," he shared.
"This facility actually saved my life. I couldn't find anyone else that would see me; nobody was taking patients at the time. So I got online and found Battle Ground HealthCare, called them and came down here. I couldn't believe it. Two weeks later, I wasn't having headaches anymore. I didn't have any fevers. My ears and throat didn't hurt," said White.
"I'd needed to have all of this done before I could go in for surgery, so they really saved me. I had been living in pain for two years. I couldn't eat anything. But after I got all that done and healed up, they invited me back in for partial dentures. Now I can eat an apple almost every day! This is a great establishment and I am just so overwhelmed by what they do. They're just amazing and I would help them any time I could with anything!" White shared.
After receiving care himself, Bob continued to partner with Battle Ground HealthCare as a volunteer. Sue Neal, executive director, shared, "Bob is a great guy. He has been so grateful for the care and services he received here that he said, 'I'll do anything I can to help.' He has a construction background and can do so many things. He even spent several hours touching up our paint and making it look wonderful for all of you here today. And he has gone out with us into the community to share his story."
Michael Brackett, Meadow Glade pastor, spoke on behalf of the church. "One of the greatest blessings in being a minister is to see church members work together with passion and unity to serve others and serve them effectively," he said. "Having been here for about 15 months now, I have to say that Battle Ground HealthCare probably is one of the greatest examples of this that I have ever witnessed. I only wish that I had been here from the ground up."
"I'm so grateful that our community can be continuously blessed by this effective ministry, and that I get to partner with this ministry moving forward, as I am going through the process to become a board member. I'm very excited about that. I am so humbled by the ongoing support of our community-church membership that continues to give of their time, talent and treasure in every way. And lastly, I am just so grateful for the excellence in leadership that I have witnessed on a continuous basis here," said Brackett.
BattleGround HealthCare continues to serve the public from its location at 1910 SW 9th Ave., Battle Ground, Washington every week from Monday through Friday. You can learn more about their services or even volunteer yourself by visiting their website at bghealthcare.org.