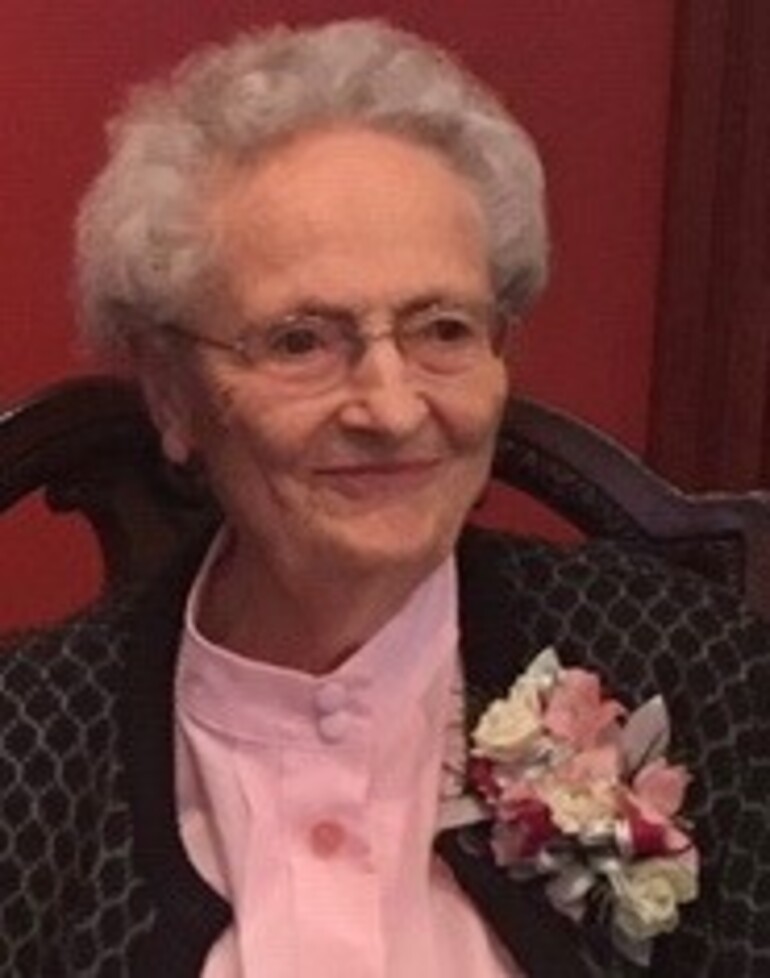 JOHNSON 95th
For Mary Ella Johnson's 95th birthday, more than 50 people surprised her with a potluck dinner on Dec. 28, 2019, in Walla Walla, Washington. Guests who honored Mary Ella included her family, church family and friends who knew her as teacher, dean, accountant and nurse.
Mary Ella was born Dec. 28, 1924, in Hemingford, Nebraska, to Allen and Sylvia Johnson. The family moved to the Walla Walla Valley when Mary Ella was 11 so she and her brother, Melvin, could attend church school. Later, at Yakima Valley Academy, Mary Ella worked in the business office. Upon graduation in 1943, her supervisor gave her an envelope to take to the business office at Walla Walla College.
God's timing was at work. When she arrived, the man in the waiting area "just happened" to be the manager of the College Store, whose bookkeeper had just graduated. Within minutes, Mary Ella had a job to support further education. There and in the business office, she worked her way through a business major plus minors in secretarial and religion.
After college graduation in 1948, Mary Ella worked in the Laurelwood Academy business office and taught typing and shorthand, then she became the girls' dean. After 14 years as dean, teaching bookkeeping again was added to her schedule. "I didn't know it then, but God was preparing me," Mary Ella says. "It got me back into business."
At the end of that school year, after 17 years with Laurelwood Academy, she transferred to Walla Walla General Hospital and worked as the controller. She worked alone at first with an adding machine and pencil. After 15 years of insurance and Medicare changes, she supervised a staff of 10–12 with their computers.
Since eighth grade graduation, Mary Ella had wanted to be a nurse. At age 60, she went back to school to become one. She then worked as a nurse at Walla Walla General Hospital for eight years until she retired to take care of her aging father.
Mary Ella especially enjoys her family, her church family, gardening, her country acre and hearing from her girls from her Laurelwood days. Her eyes and smile light up as she says, "I still have girls all over the world." She's enjoyed business travel, Christmas travel with family to Germany, and mission trips to Zimbabwe and El Salvador.
Her family includes brother and sister-in-law, Melvin and Alma Johnson of Salem, Oregon; nephews, Doug Johnson of Tualatin, Oregon; Ralle Johnson of Redmond, Oregon; niece, Lana Jones of Salem; and grand-nephews and nieces.
Active in the Stateline Church in Milton-Freewater, Oregon, Mary Ella continues as church clerk and secretary. She leads a Bible study, and her business acumen and organizational skills make her a valuable member of several committees. She is a friend and Bible student. Her brother adds, "She has been a sincere, dedicated Christian all her life. Her top priority is to serve the Lord, to do what He wants her to do."