Jeanne Marvelle Oltman 90th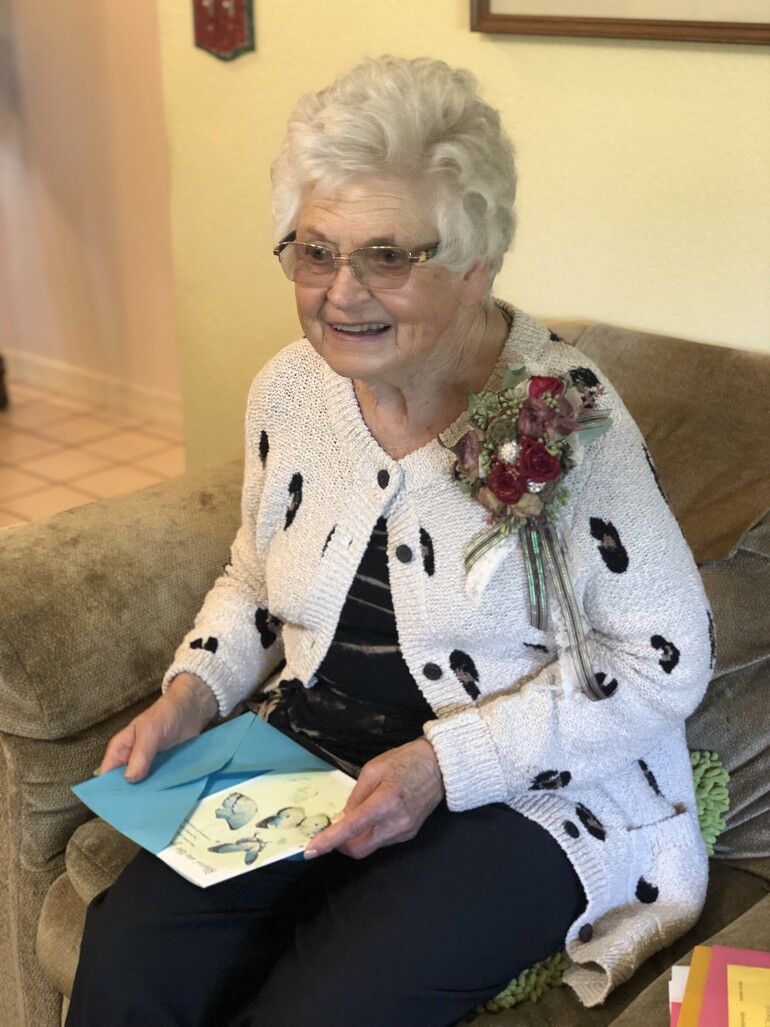 OLTMAN 90th 
Jeanne Oltman celebrated her 90th birthday on Oct. 6, 2019, with a brunch at the home of her children, Guy and Paula Oltman, in Hermiston, Ore. A gathering of nearly 70 family members, spanning four generations, came from as far away as Texas and Southern California to honor Jeanne.
Jeanne Friedly was born in Pendleton, Ore., to parents Frank and Myrtle Friedly. A graduate of Payette High School in 1947, Jeanne always called the Northwest home. Her first husband, Chuck Puntney, although never a practicing Seventh-day Adventist himself, introduced her to the Adventist faith. As a young mother of six children, Jeanne was baptized in Idaho's Payette Church by Harold Warnick. She thanks the Walt Albrecht family for "loving her into the church."
It was following Jeanne's 1970 marriage to Don Oltman that her three decades of working in the construction trade began. The Oltmans worked as a team to build more than 45 homes. It seemed that everywhere they moved, their new church family was in the planning stages of building a much-needed church home. Don and Jeanne led the construction of churches in Cheney, Wash.; Weiser, Idaho; and Merlin, Ore. Extended mission experiences in Japan, Zimbabwe, Malawi and Madagascar were especially meaningful to them.
Following Don's death in Hermiston in 2014, Jeanne returned to Grants Pass, Ore., where she again attends the Merlin Church every Sabbath. Her independent life continues to be fulfilling and a blessing to others. Jeanne spends her time in Bible study, walking, water aerobics, cooking/baking, gardening and just generally being a good neighbor and an active church member. Her large family all rise up to call her blessed.
Jeanne's family includes Chamalene (Puntney) Johnson of Santa Paula, Calif.; Robert and Laurie Puntney of Grants Pass; Gary and Adele Puntney of Veradale, Wash.; Terri (Puntney) and Bill Snapp of Winchester, Va.; Ronya (Puntney) and Dave Petso of Boise, Idaho; Tonya (Puntney) and Willie Johnson of Spokane, Wash.; Leo and Cathi Oltman of Ellensburg, Wash.; Guy and Paula Oltman of Hermiston; Marlin and Tamara Oltman of Ontario, Ore.; Darrell and Tracie Oltman of Meridian, Idaho; 24 grandchildren and 44 great-grandchildren.